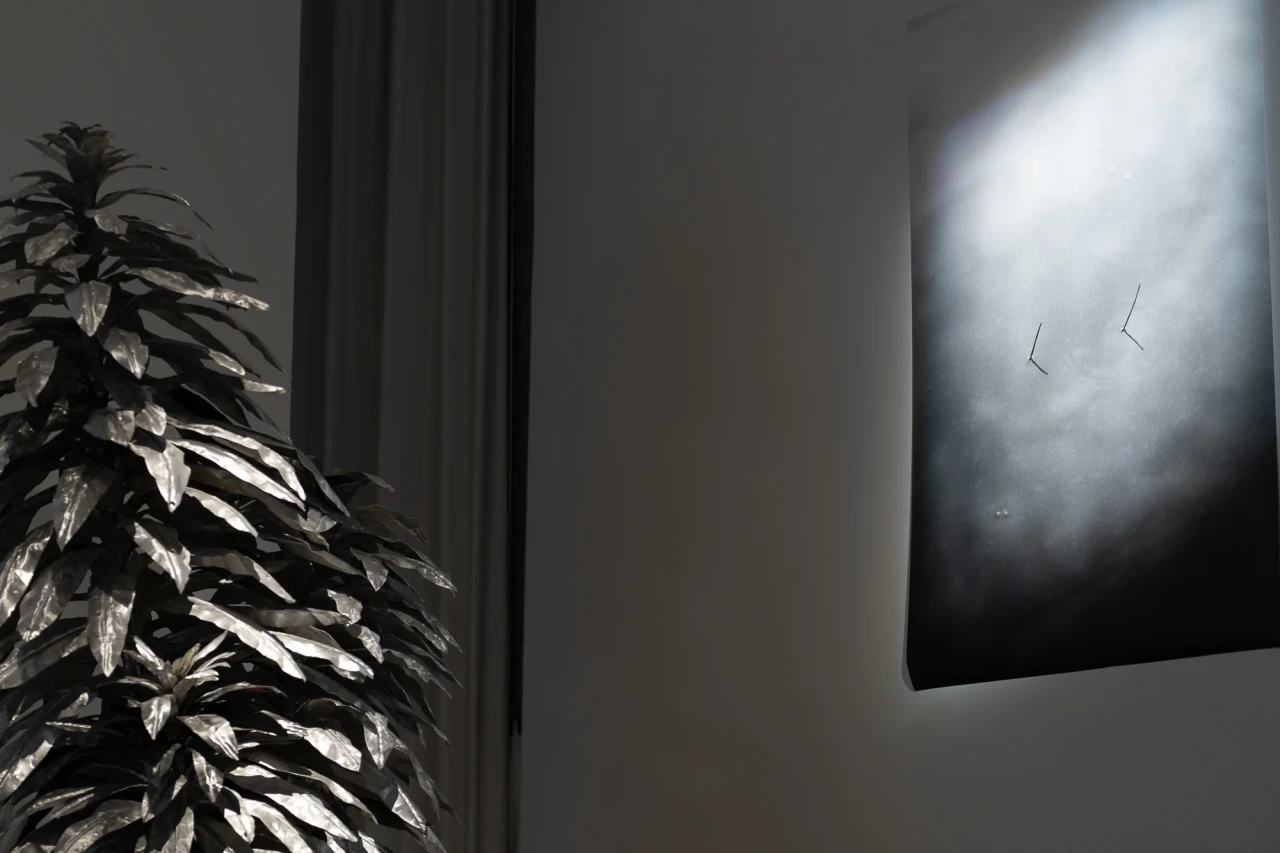 Uncountable Time, the group exhibition by Thai artists present video, photography, and installation works refer to the notion of "Duration" or uncountable time.
Group exhibition by Nontawat Numbenchapol (Thailand) and Kridpuj Dhansandors (Thailand)
Rungruang Sittirerk (Thailand), and Viriya Chotpanyavisut (Thailand)
Selected by Arin Rungjang (Thailand), Grace Samboh (Indonesia),
Kathleen Ditzig (Singapore), and Lyno Vuth (Combodia)
Facilitated by Gridthiya Gaweewong (Thailand) and David Teh (Singapore)
Curated by Arin Rungjang (Thailand)
Uncountable Time, the group exhibition by Thai artists present video, photography, and installation works refer to the notion of "Duration" or uncountable time. History is not merely a record of the past but also a painful memoir buried in the conscious mind of the victim or trauma, the intensity of emotion, loss, agony, and melancholy that can be abrupt once triggered. As well as the uncountable time, it is not in the past, present, or future, but rather in the conscious mind. Yet, it preserves the past, disharmonizes with time flow or mobility in space, and speculates altered possibilities. The possibility that comes with the freedom to choose, build or even convert to others. Uncountable time in the conscious mind is protracted, but gradually moves from the past to the present, where these collective pasts become metahistory and aligned in such complexity.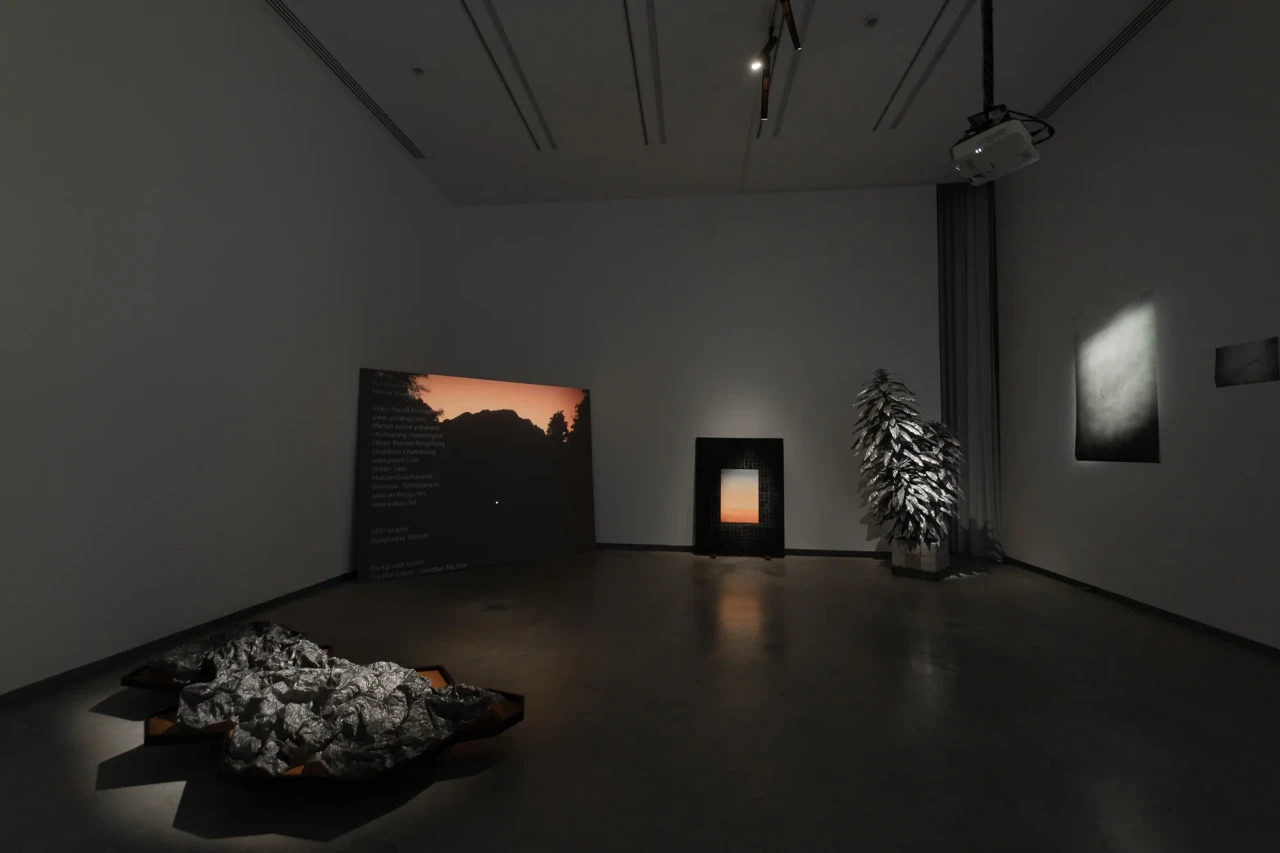 These artworks present time in conscious mind and sediment of the Cold War that remains until today in the present. Nontawat and Kridpuj tell a story that was oppressed by the autocrat through video. Viriya shows blurry photographs of everyday objects, different from their nature that depicts images clearly and truthfully. And Rungruang's installation builds on his uncle's memoir. A driver who delivers fruits from the North to Bangkok, life on the road, and the way it leads has become memories or past that shape the will of life.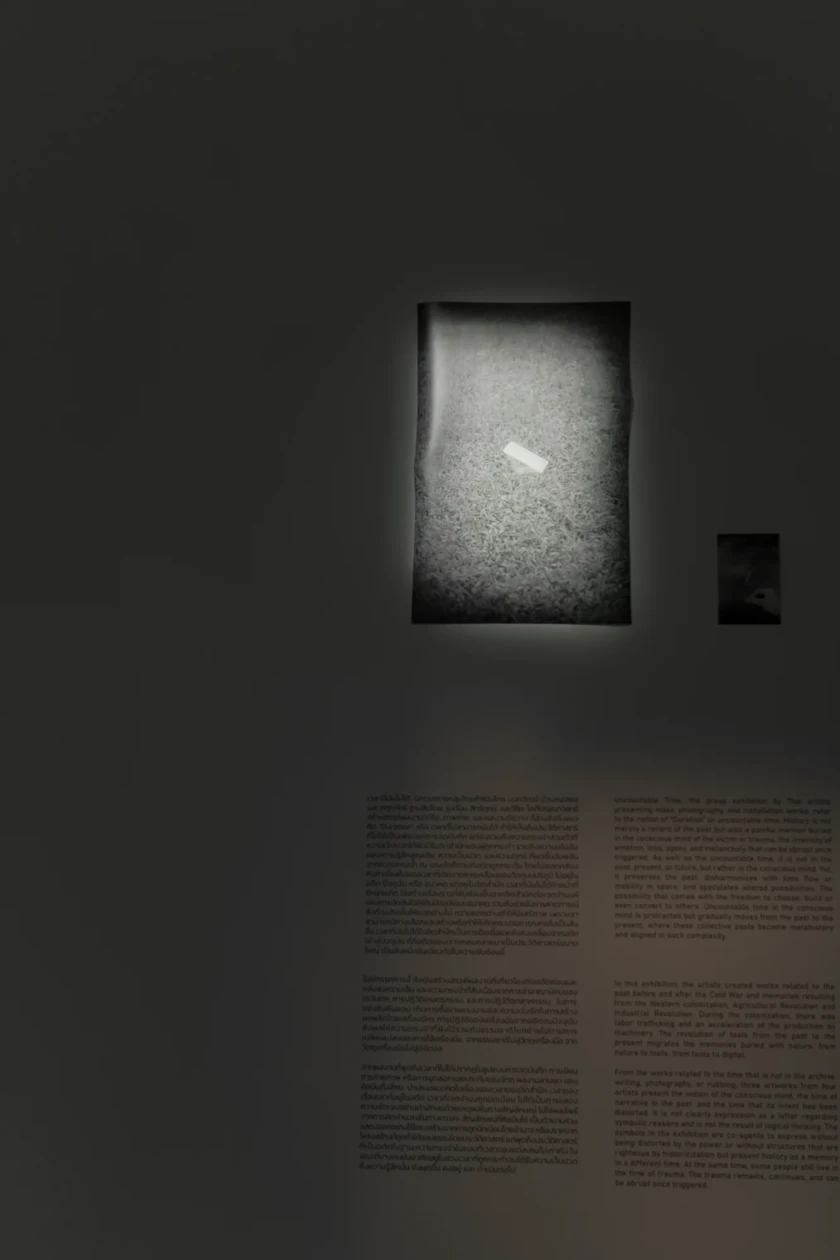 This exhibition is a part of Future Project, facilitated by Jim Thompson Art Center in 2022, relevant to the Cold War context in Thailand or Southeast Asia and beyond to address critical issues of our fast-changing and disrupted local and global realities. For example: How do we deal with the remnants of the Cold War and our collective memory? What futures do we envision amid upheaval and uncertainty? How can we advance alternative pathways in these febrile times?
This exhibition, Uncountable Time is made possible by the facilitation of The Jim Thompson Art Center, together with the generous support of The James H.W. Thompson Foundation and GroundControl.
Nontawat Numbenchapol
Born in 1983, Bangkok
lives and works in Bangkok.
Artist
Numbenchapol is a Thai film director and television screenwriter, who is widely recognized for his documentary work. In 2013, he finished his first documentary film BOUNDARY, funded by Busan International Film Festival and Art Network Asia. The film depicts point of views of local people at the Thai Cambodia border that have never been recognized. He received the Young Filmmaker award from the Bangkok Critics Assembly and BOUNDARY screened across many film festivals such as Berlin International Film Festival, International Documentary Film Festival Amsterdam and Yamagata International Documentary Film Festival. In 2016, Numbenchapol began research on Thai Myanmar border on the Shan ethic minority, resulting in two film projects, SOIL WITHOUT LAND and DOI BOY, currently in development, is his first fiction feature. In 2020, He had a solo exhibition, LONGEST WAY ROUND IS THE SHORTEST WAY HOME, at Ver Gallery, Bangkok.
Kridpuj Dhansandors
Born in 1994, Buriram
lives and works in Khon Kaen.
Artist
Dhansandors grew up in Prakhonchai district, Buriram province. He used to work in a small hospital in southern Isan, and has studied in Family Medicine in Khon Kaen since 2021, with interests in human rights, arts and cinema. He wrote articles and film/art criticism for The Isaan Record, The Isaander, art4d, Film Club, Prachatai, and Way magazine. Trained as a family physician, Dhansandors is also interested in the clash between modern medicine, science, culture, and bounded individuals. He traverses neglected ' stories and their connections through mediums, such as art and shamanism. As one of the participating artists/curators, Dhansandors 's approach as a film curator and critic has resulted in multidisciplinary productions.
Rungruang Sittirerk
Born in 1988, Bangkok
lives and works in Bangkok.
Artist
Moving from place to place during his childhood draws up Sittirerk's interests in creating the Art about how people move and migrate. His works focus on modern capitalism and globalization. Sittirerk connects issues through the stories of displaced people in the urban areas and through exploration of content relevant to people of the working class. Most of his art works come from the context of whether songs, tales, movies, stories of people in the provinces mixed in with his personal experience, caused by father and mother to become laborers in the city (Thai's labor year1997) and later died from work related illness. His exhibitions include the Bangkok Art Biennale (2020), "Brand New 2018" (2018) at Bangkok Univerity Gallery, and EARLY YEARS PROJECT (2019) at the Bangkok Art & Culture Centre. He still has shown work both at home and abroad, such as Seven master samurai project at the Art Center, Chiang Mai Art Center, Somewhere Not Here at Tentacle N22 Thailand, and OITA Sculpture Festival in OITA, Japan.
Viriya Chotpanyavisut
Born in 1982
lives and works in Bangkok and Lyon.
Artist
Chotpanyavisut often sees special elements in everyday objects, his photographs show us these ephemeral environments. When the appearance of light, shadow or natural phenomena that we can sense, for example temperature, moisture or substance in the air collide with the camera lens, flash etc., it gives us these photographs and an opportunity to see what the eye can not normally see, completely changing our perception toward those images. Chotpanyavisut's photographs make it possible to read an object as a new form. He was involved in numerous international group exhibitions include Fond d'art contemporain de Paris, France (2022), Musée d'arts de d'archéologie d'Aurillac, France (2022), Temporal Topography, MAIIAM Contemporary Art Museum, Chiang Mai, (2019). Phnom Penh photo festival, Cambodia, (2019). PARALLEL, Ramasun Historical Museum, Udonthani, Thailand (2019). Chotpanyavisut has also exhibited in solo shows at the Gallery N/A, Seoul, South Korea. (2022), Galerie de Multiple, Paris France (2020, 2014 & 2012), Ver Gallery, Bangkok, Thailand (2020).
Arin Rungjang
Born in 1975 Bangkok,
lives and works in Bangkok.
Curator
Rungjang is known for deftly revisiting historical material, overlapping major and minor narratives across multiple times, places, and languages. His interest lies in lesser-known aspects of Thai history and their intersection with the present in the sites and contexts of his practice. Objects, which can draw together distant events across time and space, are central to his investigations.
Representing Thailand at the 55th Venice Biennale. Recent exhibitions include Begawan Solo at Portikus, Frankfurt, Germany (2018), Mongkut – CAPC – Musée d'art contemporain(2015), Bordeaux, Satellite 8, Jeu de Paume, Paris (2015), Finalist Apb Foundation Signature Art Prize (2014), Golden Teardrop, representing Thailand at the 55th Venice Biennale (2013). He has participated in the 18th Biennale of Sydney (2012), the Bandung 'City Pavilion' at the Shanghai Biennale (2012), the Third Singapore Biennale at Old Kallang Airport (2011).