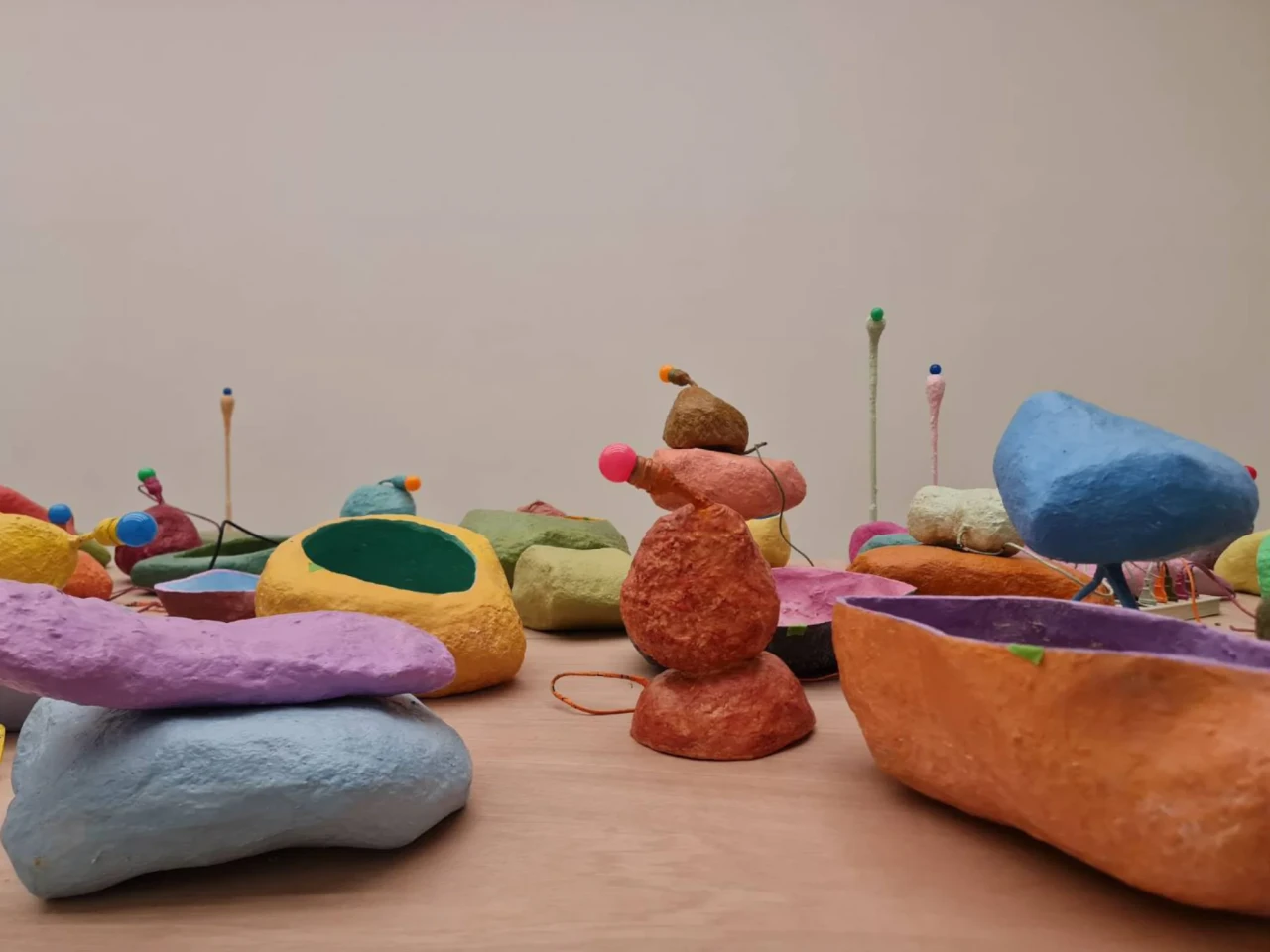 Exhibitions
Dreamday
By Mit Jai Inn
EN
TH
Curated by Melanie Pocock and Kittima Chareeprasit
A exhibition organised in collaboration with Ikon and MAIIAM Contemporary Art Museum at Jim Thompson Art Center
Jim Thompson Art Center presents Dreamday, a solo exhibition by Mit Jai Inn (b.1960, Chiang Mai). A leading figure of contemporary art in Thailand, Mit is renowned for his colourful artworks that merge painting and sculpture. The exhibition brings together recent work from the artist's solo exhibition at Ikon Gallery (Birmingham, UK, 2021) and a new participatory project, Bangkok Apartments (2022).
Dreamday is a development of Dreamworld, the artist's first solo exhibition in Europe, which tours to MAIIAM Contemporary Art Museum (5 March 2023 – 14 February 2024). The exhibition embodies the artist's vision of art "as a utopian dream within everyday life" and collective hopes for a brighter future. In recent times, the challenges of a global pandemic, climate change and global geopolitics have led to widespread disillusionment, with many people choosing to withdraw from "in real life" experience. These challenges have also forced us to imagine alternative ways of being that refuse exploitative modes of production and instead promote the value of presence, mutual dialogue and gift economies.
Circulating positive energy between humans and the natural world is at the heart of Mit's artistic practice. He sees painting as a way of transferring fields of energy from the earth (the source of his materials) into his works, their surroundings and viewers. Often working at night, he uses his hands, fingers and palette knives to dab, slap and pull colours across rolls of unstretched canvas, blending them intuitively. The thick consistency of his paint is derived from a mixture of oils, gypsum powder, colour pigments and acrylic, often loosened with linseed oil. In time, circular patches and specks of colour are built up, creating a natural rhythm, pattern and language.
A devout Buddhist, Mit sees art as a form of "social architecture" capable of counting the controlled dynamics of consumer economies. For many years, he worked anonymously with artists and communities as part of Chiang Mai Social Installation (CMSI), giving his works away for members of the public to keep, and for artists to incorporate into their own projects. These gestures highlight Mit's belief in his artworks as gifts, whose meaning lies in the hands of their owners, hosts and viewers.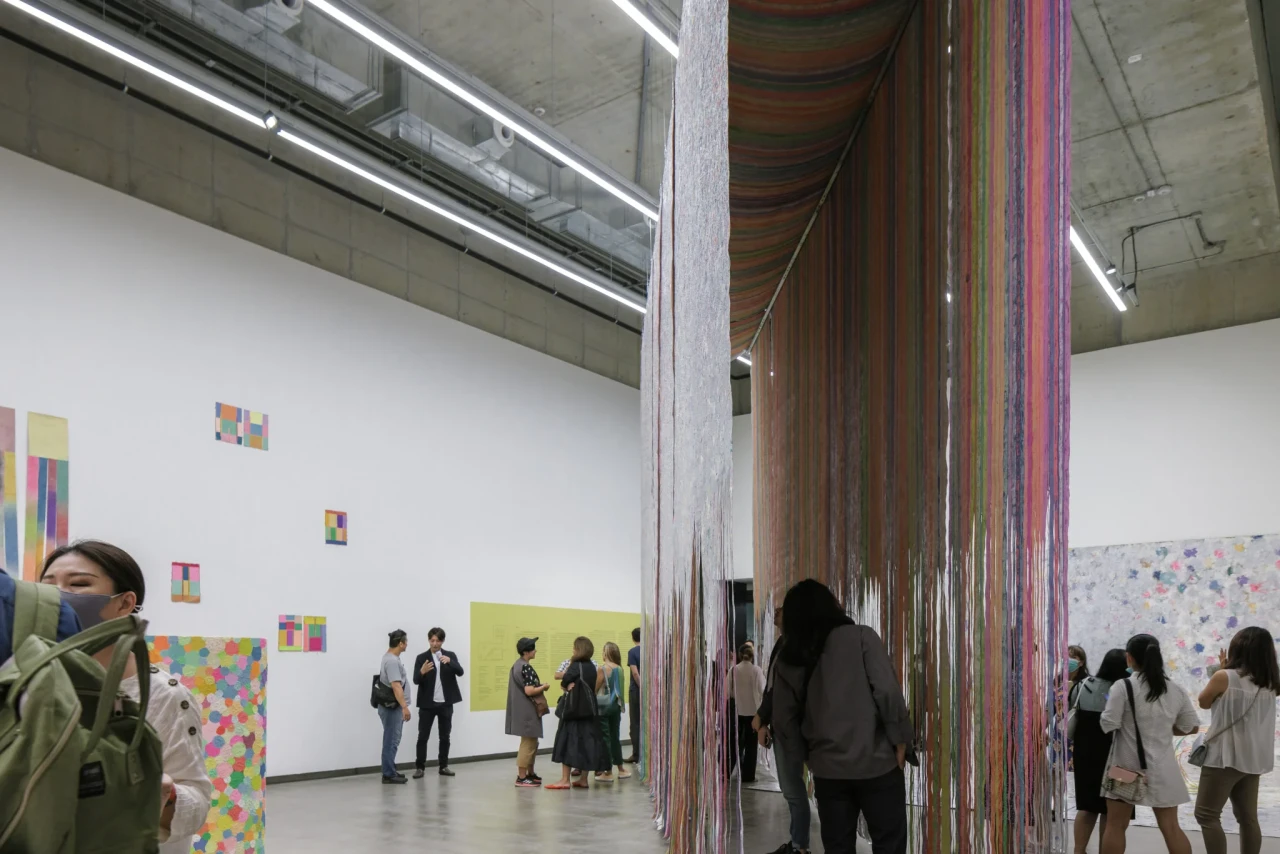 Dreamday explores the healing and social power of art through vibrant works that can be touched, walked through, stepped on, and taken away. Highlighting Mit's belief in the "living" nature of painting, the exhibition challenges hierarchies between art and viewers, transforming JTAC's galleries into spaces for dwelling, interacting and creating. In Gallery 1, Dream Tunnel (2021) creates a room within a room, surrounding viewers who walk through it with ribbons of colour,designed to "cleanse stagnant or wounded energies". Midlands Dwelling (2021) references the prehistoric caves in which early humans expressed their dreams as drawings, as well as the city of Birmingham, where the welded, metal sculptures inside the installation were made. Dream Works (1999–) and Loops (2019–) are two, ongoing series of double-sided canvases, with cuts and slits that allow them to be curved, looped, hung or placed on the ground.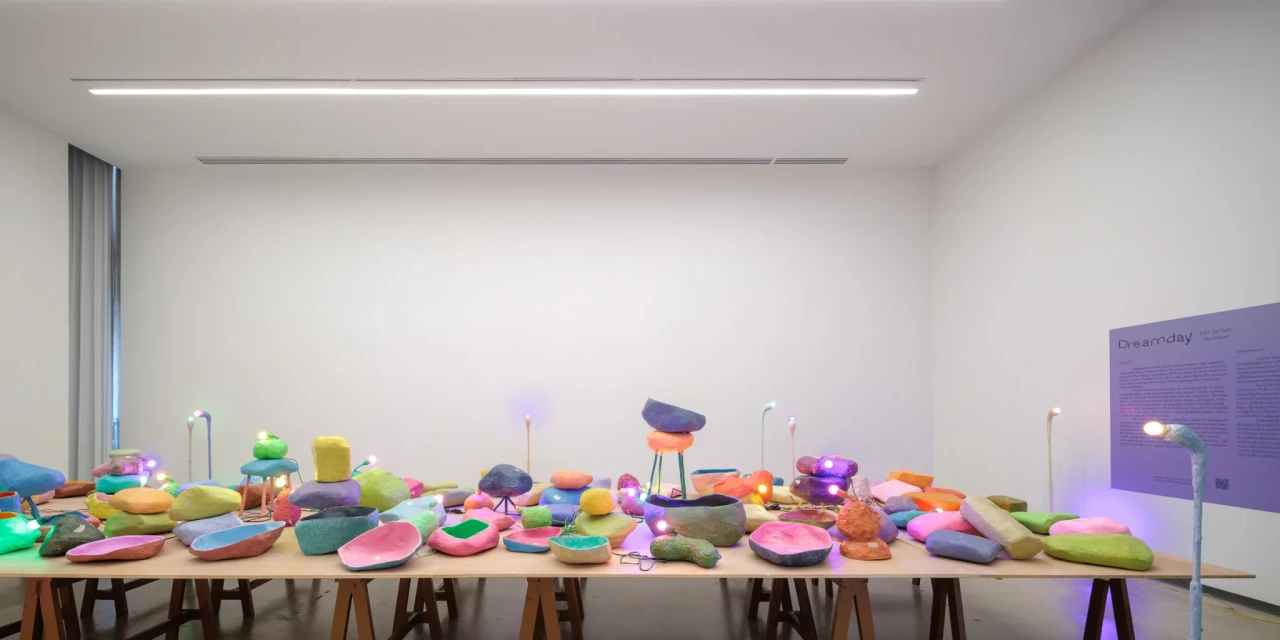 In Gallery 2, the participatory work Bangkok Apartments (2022) invites visitors to take a painted object made from recycled material. The project is inspired by an earlier project by Mit, Vienna Apartments (1991), in which the artist invited his friends and residents of the city to take an object made from found material and furniture and open their homes for a public exhibition. Visitors to the exhibition at JTAC are invited to take one of the 74 newly assembled objects made by Mit for free, in exchange for sharing documentation and opening their own homes to the public. Bangkok Apartment allows us to revisit the idea of "social architecture," where art is part of the community. It will open up the possibility for an in-person interaction after the pandemic. At the same time, we could learn the way of Bangkok's urban living culture.
Dream Tunnel (2021)
Oil on canvas
542 × 153 × 804 cm

Dream Works (1999–)
Oil on canvas
Each 40 × 30 cm

Loops (2019)
Oil on canvas
Each 330 × 35 cm

People's Screen (2022)
Oil on canvas
256 × 410 cm (2)* 30 × 640 cm

Midlands Dwelling (2021)
Oil, colour pigment and glue on canvas 310 × 650 × 550 cm
Acrylic on canvas on metal
(1)–(4) 418 × 3 × 3 cm (approx.);
(5) 61 × 232 × 77 cm

Untitled (Scroll) (2021)
Oil on canvas
149.5 (height) × 67 (diameter) cm

Bangkok Apartments (2022)
A comprehensive monograph on Mit Jai Inn's life and work, published by Ikon and ArtAsiaPacific Foundation, is available to purchase at the JTAC. It includes full-colour documentation of the Dreamworld exhibition at Ikon and key works, with texts by Melanie Pocock, Ikon Curator; art historian Simon Soon; critic and curator Brian Curtin; plus an interview with the artist by Gridthiya Gaweewong, Artistic Director, The Jim Thompson Art Center, Bangkok.
Mit Jai Inn
1960, Chiang Mai
Artist
Mit Jai Inn was raised in an indigenous Yong family and Lanna weaving village in Northern Thailand. Aged nine, Mit became a novice monk at Djittabhawan Buddhist College, Pattaya (1970 – 1976). He began his artistic training at Silpakorn University, Bangkok, whose neo-traditionalist curriculum he eventually rebelled against. Leaving for Germany in 1986, where he camped in Kassel during documenta 8, he enrolled in the Master's programme at the University of Applied Arts, Vienna. There, he met acclaimed Austrian artist Franz West, for whom he worked as a studio assistant (1988 – 1992). Returning to Thailand in 1992, he founded with a group of Thai artists the Chiang Mai Social Installation (CMSI), a festival of ephemeral installations and performance art in public spaces and temples throughout the city. Over the past twenty years, his work has been exhibited in major museums and galleries including the Yokohama Triennale (2005); Palais de Tokyo, Paris (2007); Bangkok Art and Culture Centre (2011); Singapore Art Museum (2014); Mori Art Museum, Tokyo (2018); Kaohsiung Museum of Fine Arts, Taiwan; and the 18th and 21st Biennales of Sydney (2012 and 2018), Ikon Gallery (2021) and Aichi Triennale (2022). His work is represented by Silverlens in Manila and TKG+ in Taipei. Mit lives and works in Chiang Mai.
Melanie Pocock
Curator
Melanie Pocock is Curator at Ikon in Birmingham, UK, where she is responsible for exhibitions, off-site projects and publications. Recent exhibitions include Animal (2021–22) by American-Taiwanese filmmaker James T. Hong, and Dreamworld (2021), the first solo exhibition in Europe by Thai artist Mit Jai Inn. Prior to Ikon, she was Assistant Curator at the Institute of Contemporary Arts Singapore (2014–19), where she organised more than 60 exhibitions with Southeast Asian and international artists. As an editor and writer she regularly contributes to exhibition catalogues and artists' monographs, and has written essays, articles and reviews for ArtAsiaPacific, Art Monthly, Frieze, Kaleidoscope, LEAP, Ocula, Phaidon, The Financial Times, Journal of Curatorial Studies, Di'van | A Journal of Accounts and Third Text. In 2014, she edited and co-wrote the first monograph on the work of Malaysian artist Shooshie Sulaiman, published by Kerber Verlag. A member of the International Association of Art Critics (AICA), she holds an MA with distinction in Curating Contemporary Art from the Royal College of Art, London.
Kittima Chareeprasit
Curator
Kittima Chareeprasit is curator at MAIIAM Contemporary Art Museum in Chiang Mai, Thailand. Her interest lies in contemporary art and culture which revolve around critical history, social and political issues. She works on several projects with emerging and established artists within the realm of Southeast Asian art and its cultural context. Her recent curatorial work includes A Minor History by Apichatpong Weerasethakul at MAIELIE, Khon Kean (2022) Watch and Chill: Streaming Art to Your Homes a free subscription-based art streaming platform curated in collaboration with the National Museum of Modern and Contemporary Art, Korea, in Seoul, the Contemporary Art and Design Museum in Manila, and the M+ West Kowloon Cultural District in Hong Kong, House Calls: Pinaree Sanpitak at 100 Tonson Foundation (2020) Breast Stupa Cookery: the world turns upside down at Nova Contemporary (2020), Temporal Topography: MAIIAM's New Acquisitions; from 2010 to Present at MAIIAM Contemporary Art Museum (2019), and In search of other times: reminiscence of things collected, at JWD Art Space Bangkok (2019). She received her MA in Curating and Collections from Chelsea College of Arts, London.
Ikon
Birmingham, UK
Ikon is an internationally acclaimed contemporary art venue situated in central Birmingham. Established in 1964 by a group of artists, Ikon is an educational charity and works to encourage public engagement with contemporary art through exhibiting new work in a context of debate and participation. The gallery programme features artists from around the world and a variety of media is represented, including sound, film, mixed media, photography, painting, sculpture and installation. Ikon's off-site programme develops dynamic relationships between art, artists and
audiences outside the gallery. Projects vary enormously in scale, duration and location, challenging expectations of where art can be seen and by whom. Education is at the heart of Ikon's activities, stimulating public interest in and understanding of contemporary visual art. Through a variety of talks, tours, workshops and seminars, Ikon's Learning Team aims to build dynamic relationships with audiences, enabling visitors to engage with, discuss and reflect on contemporary art. www.ikon-gallery.org
MAIIAM Contemporary Art Museum
Chiang Mai, Thailand
MAIIAM is a new private museum of contemporary art in Thailand initiated by Jean Michel Beurdeley and his late wife Patsri Bunnag, together with their son Eric Bunnag Booth. The family wishes to share their private collection, built together over the last thirty years, to everyone so that people could see and experience for themselves how art can enrich their lives. The museum was built in memory of Eric Bunnag Booth's great great aunt Chao Chom lam, a royal consort to King Rama V.
Bolstering Chiang Mai's already vibrant art and cultural scene, MAIIAM aims to make the co-founders' important collections of Thai and regional contemporary art, permanently accessible to the public. The museum mounts long-term and temporary exhibitions of visual art, design, and fashion, alongside performances, films screenings, special education programs, lectures and workshops to engage a wide spectrum of audiences. Located in the district of Sankamphaeng, twenty minutes from the center of Chaing Mai, the former industrial site was transformed by the internationally active Bangkok-based architectural team all(zone). www.maiiam.com