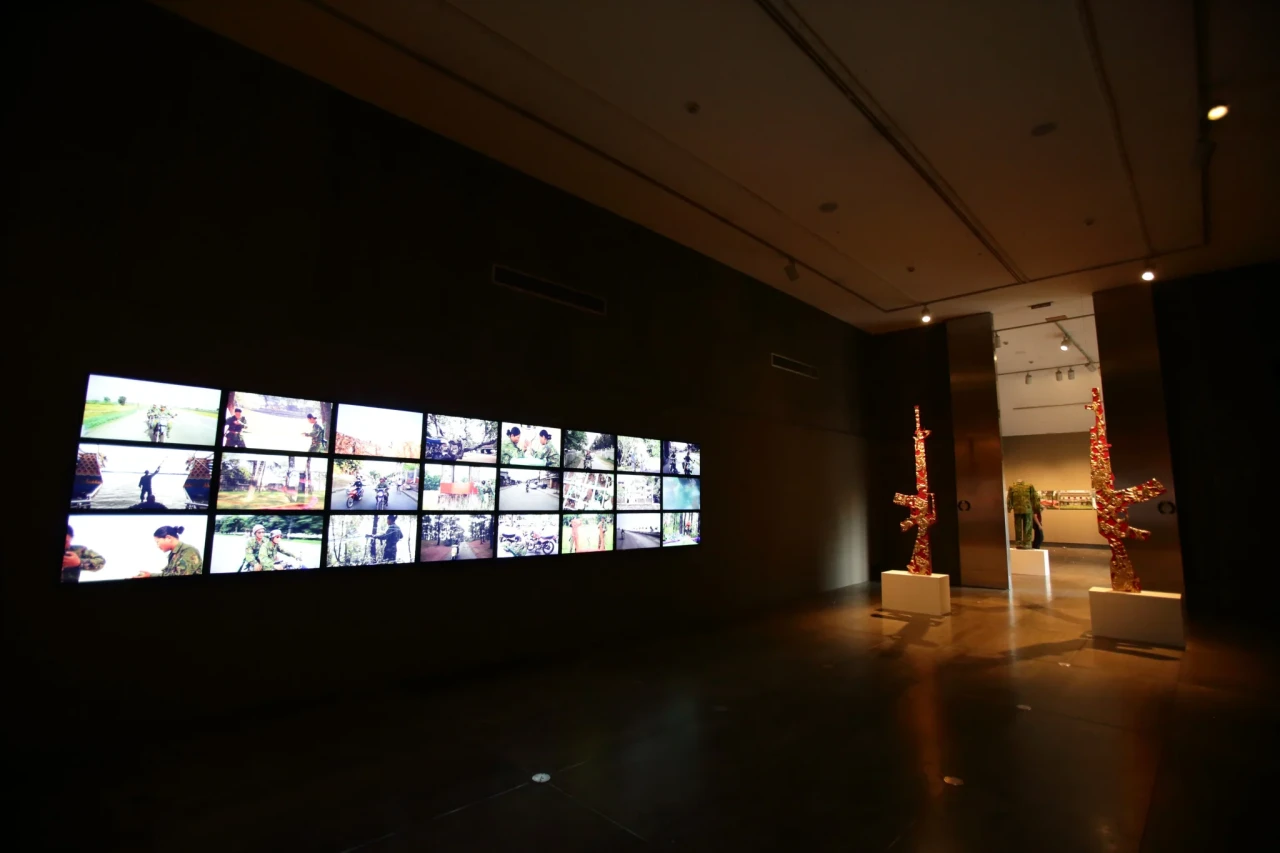 Exhibitions
The Game | Viet Nam by LE Brothers
EN
TH
Continuing our focus on regional perspective, the Jim Thompson Art Center is pleased to present The Game | Viet Nam by LE Brothers, the twin artists based in Hue, Vietnam, and curated by Loredana Pazzini-Paracciani, an Italian curator based in London.   
Following the fall of Saigon on April 30, 1975, North and South Vietnam were officially reunified after coexisting as two separate entities for 21 years (1954–75). Marked by the end of the Vietnam War, the post-war period signaled the cessation of war and armed conflict in the unified Vietnam, yet it initiated the complex transformation of the country into the Socialist Republic of Vietnam, a title it retains today. This period was characterized by the implementation of rigid government policies, economic repression, strict intellectual censorship and state guidelines on culture and art, which were partly softened in the late 1980s with Doi Moi (Reform and Renovation). It is in Vietnam's post-war era that the mixed-media exhibition The Game | Viet Nam by LE Brothers rests its focus. Contrary to the Vietnam War's widely distributed mediatic information-from books documenting the events to Hollywood blockbuster movies-post-1975 Vietnam has been a period much less objectified and appropriated by the public, yet therein crucial in the definition of present- day Vietnam.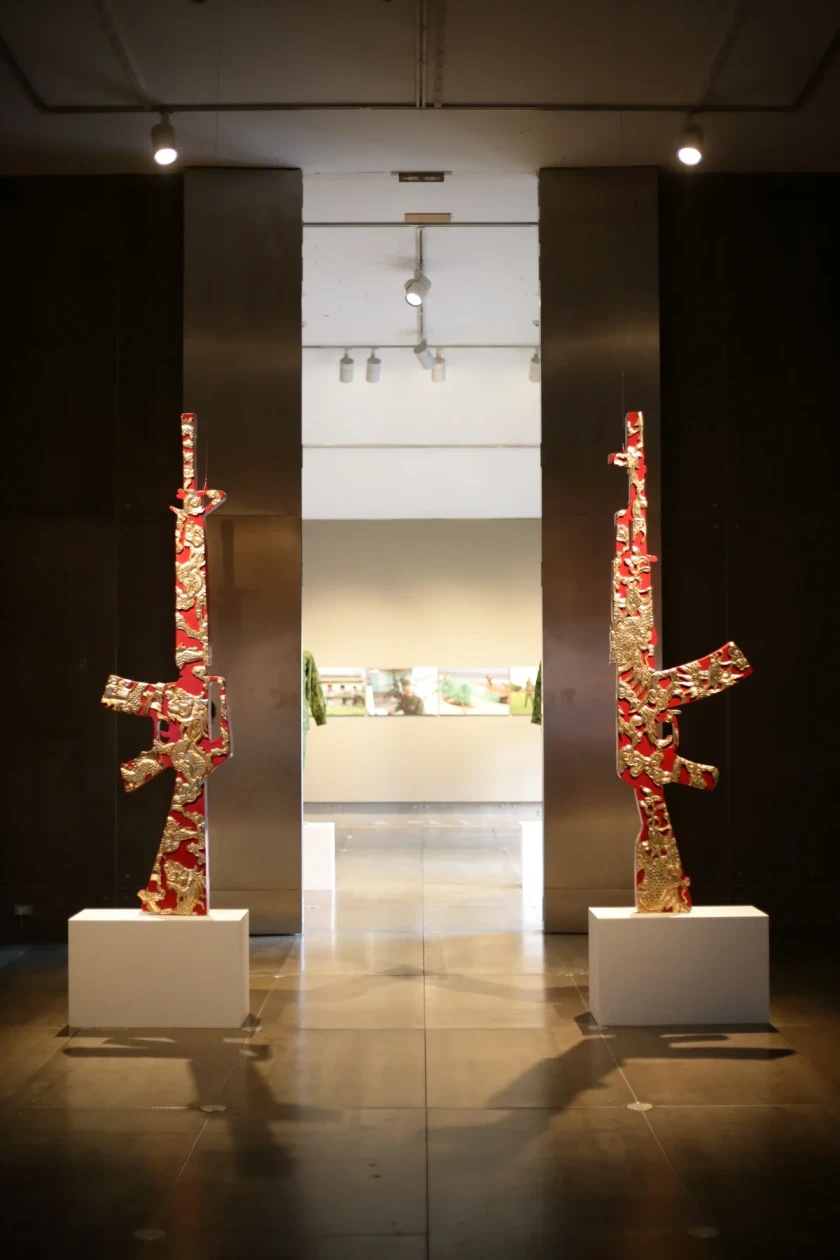 In The Game | Viet Nam by LE Brothers, artists Le Ngoc Thanh and Le Duc Hai identical twin brothers who make their art as the LE Brothers examine Vietnam today, four decades after the reunification, by recalling their childhood and past memories, and those of their generation, growing up in a country scarred by war and divided ideologically in the North and South. The brothers were born on April 3, 1975, in Quang Binh province, and just 27 days later, on April 30, Vietnam gained complete independence. In 1991, during Doi Moi, they moved to the city of Hue, only a few kilometers from the 1954 Geneva Agreement demarcation line at the 17th parallel, which divided the two Vietnams. Images of destruction and death haunted their youth and urged them as children to role-play in an imaginary world of peace and healing. With very little resources their childhood games were non-violent confrontations with weapons made of improvised materials. Simulating what was happening in their surroundings, the brothers and their friends were fighting for their own subjective unity.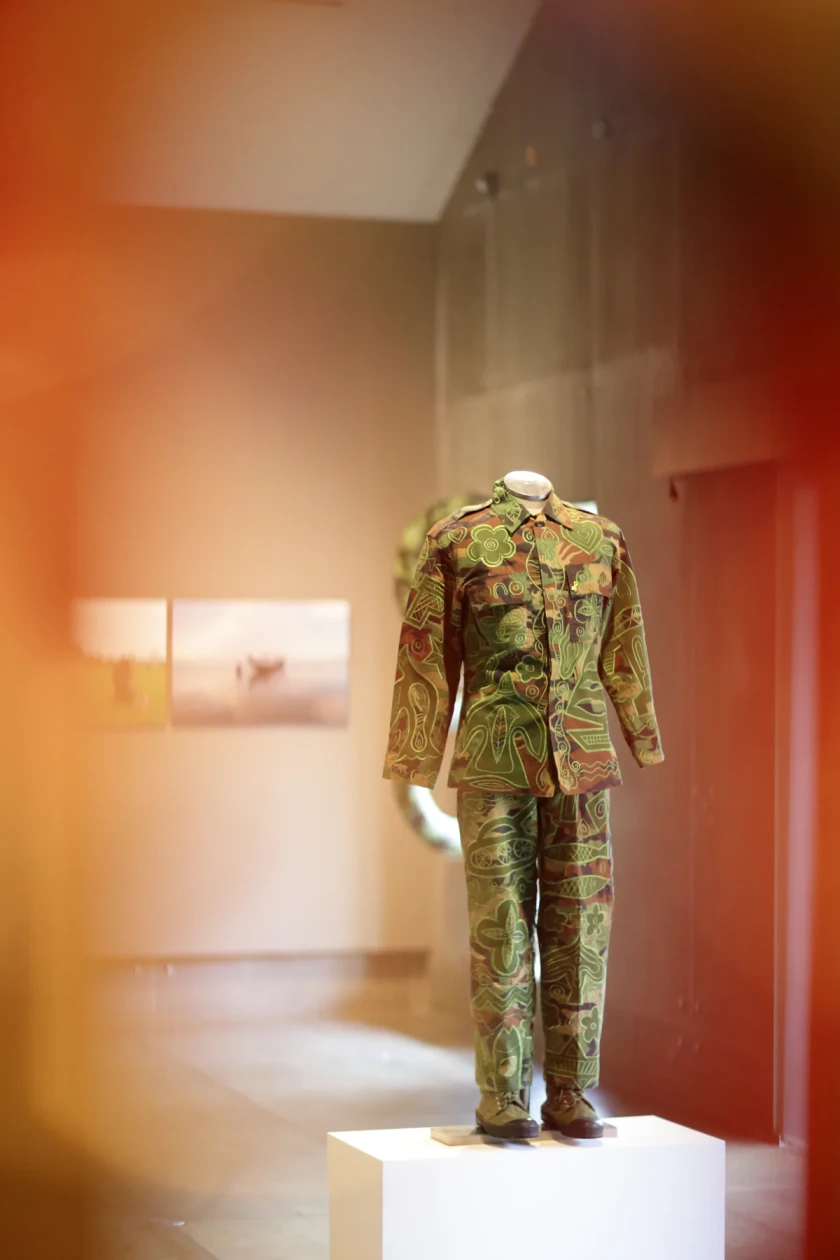 Comprising a number of mixed-media works, The Game | Viet Nam by LE Brothers features a compelling 24-channel video installation, itself titled The Game, including an extensive photo installation that documents its development, and revisited military paraphernalia with two largerthan-life rifles, the iconic AR-15 (United States) and AK-47 (former Soviet Union), constructed of exquisite lacquer work—a reference to the LE Brothers' earlier works and a nod to Vietnam's traditional fine art. 
Also part of the exhibition is a compact archival section where the postwar period is documented through geographical maps of Vietnam, posters, books and novels that encapsulate the spirit of that period, as well as a series of old photographs taken before Doi Moi of LE Brothers' friends and relatives regardless of North or South Vietnamese origin. The photographs are all in black and white, of a similar style and taken using a similar technique. They represent a portrait of a time defined by totalitarian values that were dominant before the Renovation period.
All together, The Game | Viet Nam by LE Brothers not only reflects on the artists' individual memories of the past but also engages with communal narratives of the local people to solicit questions and answers about identity and social consciousness as a result of the post-war divide and, ultimately, reconciliation and solidarity.
Loredana Pazzini-Paracciani
Curator
Loredana Pazzini-Paracciani is an independent art curator, writer and lecturer of Southeast Asian contemporary art. She is based between London and Bangkok. Loredana works extensively with commercial spaces and art institutions in Singapore, Bangkok, London and New York to champion critical issues of Southeast Asian contemporary art and culture through the works of emerging and established artists from the region. Her curatorial practice is based on rigorous research and consistent dialogue with artists. Recent curated exhibitions include INTERLACE: Three Artists in the Cambodian Diaspora, in Cube Arts, New York, United States (2016); Asylum Seeker: The Pond and the Fireflies | A solo show by Prapat Jiwarangsan, The Jam Factory, Bangkok, Thailand (2016); REV|ACTION: Contemporary Art from Southeast Asia, Sundaram Tagore Gallery, New York, United States (2015); and Architectural Landscapes: SEA in the Forefront at the Queens Museum, Queens, New York, part of inToAsia Time-Based Art Festival (2015). Loredana is currently working on INTERLACED JOURNEYS: Diaspora and the Contemporary in Southeast Asian Art, to be published in 2017, a debut compilation of essays that explore the connections between diasporic movements and contemporary art in Southeast Asia.
LE Brothers
Artists
LE Brothers were born in Quang Binh in the northern part of Vietnam in 1975. After the reunification of Vietnam in 1975 under communist rule, the brothers moved to live and work in Hue, Vietnam's ancient capital, in the southern part of Vietnam. Torn by the consciousness of their dual southern and northern identity, LE Brothers have developed their artistic practice based on engaging performances and video documentations that comment on the social and political challenges of developing Vietnam. Mirroring each other in most of their works, for LE Brothers are identical twins, they use their physical attributes to mirror the condition of Vietnam as a country scarred by division and reconciliation. Selected solo   exhibitions  inlcude The Bridge III, 5-channel video installation, Goethe-Institute, Hanoi,Vietnam(2016); The Underlying, video installation, Centre A, Vancouver, Canada (2015); Red Project, 3-channel video installation, The Observatory, Ho Chi Minh City, Vietnam (2014); Into The Sea, 3-channel video installation, Free Art Space, Taipei, Taiwan (2014). Recent group exhibitions include Asiatopia: Performance Art Conference Southeast
Asia, Bangkok, Thailand (2016); Can a Line Define? Staten Island, New York, USA (2016) ; The Truth – To Turn It Over, Gwangju Museum of Art, South Korea (2016).
LE Brothers are also the founders of the New Space Arts Foundation, which fosters exchange among international and local artists. Founded in 2008, the foundation is the first artist residency in Vietnam.